Dynamicats Double Trouble
Kieskeurig mag je ons wel noemen. Na vele jaren aarzelen werd onze wenslijst voor een fokpoes steeds langer: de juiste persoonlijkheid voor een perfecte gezelschapsdier, een goede moeder, nieuwe genen voor de genpoel, robuste gezondheid, en eerlijk gezegd, schoonheid mocht ook meetellen.
En eindelijk kwamen wij een kater met de ideale karakter tegen. Toevallig was zijn allerlaatste nest met een dame die wij ook  geweldig vonden.  Hieruit is Trouble bij ons komen wonen. Trouble zorgt iedere dag voor geluk bij ons!
Wij mogen geen huiswerk of tuineren doen zonder de assistentie van Trouble. Willen we een dutje doen, dan ligt ze vast samen ergens met ons op bed. Ze is weliswaar geen schootklever, maar Trouble is er altijd bij.  Wij zijn ook er van overtuigd dat ze een gevoel voor humor heeft.
Trouble is in 2016 echografisch getest en had geen afwijkingen in hart, lever, nieren of galblaas. Haar genetische tests (Van Haeringen) zijn voor alles negatief. Tevens is ze negatief voor FIV en FeLV (maart 2016).

OK, so we're picky.  We spent years vacillating over the choice of a breeding female.  We wanted her to have just the right personality to be a wonderful companion animal and a great mother.  We wanted new foundation, robust health, and to be honest, good looks were also on the wish list.
Sure enough, a retired male crossed our path who had very the loveliest character.  And it turned out that the mother of his very last litter of kittens was a female whom I also knew and loved. There was a female in the litter for us!  We've had nothing but Trouble ever since, and we're loving every minute of it.
No housework or gardening can be done without Trouble "helping". No nap can be taken without Trouble lying somewhere with us in the bed. She's not a lap-cat, but she's the very best of buddies. She appears to have a sense of humor, as well.
Trouble's ultrasound tests (2016) showed normal heart, kidneys, liver and gall bladder. Her genetic tests (Van Haeringen) are negative. She is also negative for FIV and FeLV (March 2016).
CH Atlantic Acadia's Ruby Tuesday
With a German mother and an American father, Ruby suits our cat family to a T!  Ruby is everyone's darling, and can charm the birds out of the sky. She is also a pleasure to behold, and her type is breathtaking. Ruby is an athletic girl who spends her days chasing insects. leaping from trees, spying on the neighbors' rabbit, and enjoying our completely enclosed cat garden. Ruby is a champion in both TICA and FIF'e. Her ultrasound tests (2018) showed normal heart, kidneys, liver and gall bladder. Her parents had negative tests for all known genetic diseases. She was negative in January 2018 for FIV and FeLV.
Ruby at 13 months.  We're really excited about her development: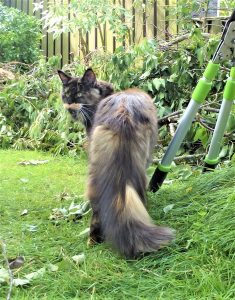 Here is Ruby at 8 months. Picture thanks to Poezels.nl: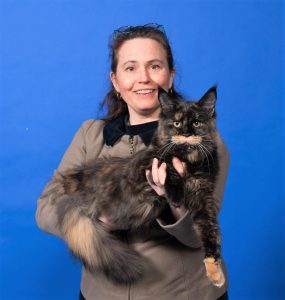 Here are some portraits taken at four months. Thank you to Kathrin Schier: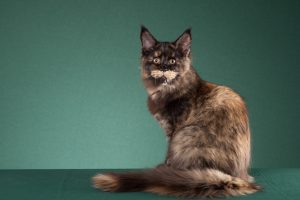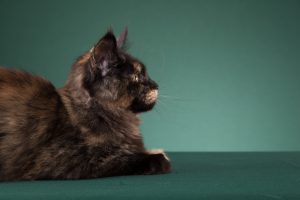 Ch. Lauda PPromise of the Spirit
Daughter of Toby and Trouble, Spirit is the B.U.M.B. (Born Under My Bed).  We love her to bits! She is an excellent companion and everyone's favorite playmate.
Spirit as a baby: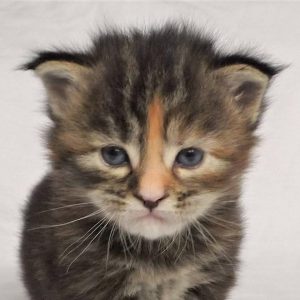 Picture taken by Larissa Korporaal at the Cats and Tulips TICA show in November 2017 when she became a champion: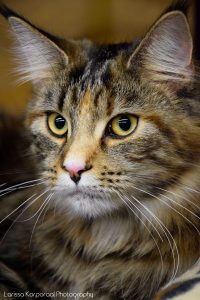 Spirit is inmiddels een hele dame. Hier is ze op de foto geweest op de Cats and Tulips Regional Show in November 2018. Photograph Katrhin Schier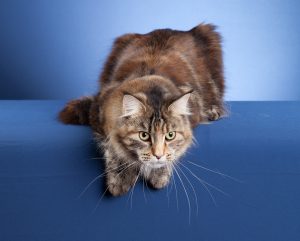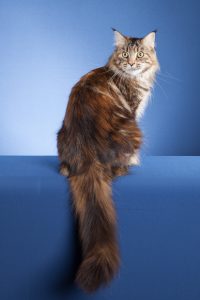 Our Lady in Waiting: Lauda Amazing Grace
Maisy is a daughter of Toby and Ruby. We are thrilled with her type and development! We are waiting for her to grow and enjoying every moment.
Here is Maisy at 8 weeks of age: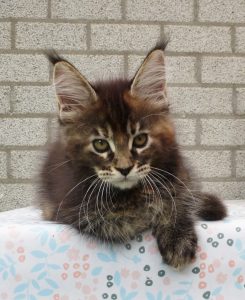 And here are some portraits taken of Maisy at the Cats and Tulips show in November, 2018. Photographs Kathrin Schier: