Dynamicats PP FireWorks (Toby)
Toby is onze grote liefde.
Wij hebben hem gevonden door stambomen te onderzoeken. In 2010 zijn we in contact gekomen met een fokker met de gewilde lijnen, en in 2011 is Toby bij ons komen wonen. Toby is polydactyl, wat betekent dat hij meer dan het typische aantal tenen heeft. Op ieder zijn voeten heeft Toby 6 tenen.
Toby is een allemansvriend.  Hij helpt alle katten in huis bij het wassen van de oren. Bij bezoek ligt hij ergens op de vloer om geaaid te worden door de jongere kinderen. Hij is bijzonder gehecht aan Rianna, eist regelmatig van haar knuffels, en ligt vaak naast haar (op zijn eigen stoel) als ze achter de computer zit. Mensen die Toby niet kennen zijn vaak verbaasd over zijn formaat de eerste keer dat zij hem zien.
Toby is in 2012 en in 2016 echografisch onderzocht. Geen afwijkingen zijn gevonden in zijn hart, nieren, llever of galblaas. Zijn genetische tests (Van Haeringen) zijn voor alles negatief.  Hij is negatief getest op patella luxatie, en is ook FIV and FeLV negatief (maart 2016). 
Toby at 4 years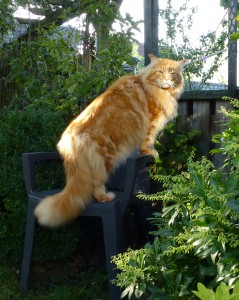 Toby is our great love.
While researching pedigrees in 2010, I came across a cat in my home state Michigan whom I particularly liked. When I contacted her breeder I was told that the cat had a daughter living here in the Netherlands. We managed to get on the waiting list for April's next litter and in 2011 Toby came to live with us.
Toby is a polydactyl Maine Coon, which means he has more than the typical number of toes. In fact, he has 6 toes on each of his large feet.
Toby has a soft heart. He helps the other cats with ear washing. When we have visitors he can be found somewhere quiet, lying on the floor to let a younger child pet him. He is deeply attached to Rianna and demands cuddles from her 24/7. His spends a lot of time lying on his own chair next to hers while she works on the computer. People are sometimes a bit surprised when meeting him for the first time, as he is rather large. 
Toby has been ultrasound tested in 2012 and 2016. There were no abnormalities in his heart, liver, kidneys or gall bladder. His genetic tests show that he carries not a single gene known to be harmful to feline health. He also shows no signs of patella luxation and is also FIV and FeLV negative (March 2016). 
Toby at 1 year