Wij zijn Rianna en Andre, en wij wonen in Helmond, Noord Brabant, Nederland. Rianna is geboren en getogen in Michigan, in de Verenigde Staten. Andre is een rasechte Nederlander.
Ons doel is het voortbrengen van het ultieme katachtige gezelschapsdier, met een focus op persoonlijkheid, gezondheid en historische Maine Coon raseigenschappen.
Onze fokdieren worden zorgvuldig gekozen op basis van hun karakter. Ze komen uit lijnen waarop generaties lang gezondheidstesten zijn uitgevoerd. Ze worden echografisch getest op hart- (HCM), lever- en nierafwijkingen door gecertificeerde dierenartsen. Tevens worden ze genetisch getest.
Hoewel deze testing geen garantie geeft dat een dier nooit ziek wordt, doen we al het mogelijke om gezellige, gezonde kittens op de wereld te zetten. Onze kittens groeien op middenin onze drukke familie en zijn gesocialiseerd om met mensen te zijn.
Contact:
Mail Rianna via/contact Rianna at
riannahof@yahoo.com
Bezoek Rianna op Facebook om meer foto's te bewonderen/You can also visit Rianna on Facebook and enjoy all the cat pictures.  https://www.facebook.com/laurianna.vusse
Rianna heeft PawPeds cursussen G1 tot en met G3 met succes afgerond en werkt als vrijwilliger voor het onderzoeken van orphans in de Maine Coon database van PawPeds.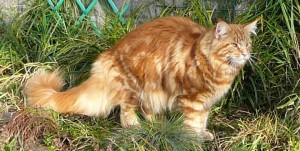 We are Rianna and Andre and we live in Helmond, the Netherlands.  Rianna was born and raised in Michigan (USA).  Andre is a genuine, born Dutchman.
Our goal is breeding the ultimate feline companion animal; a cat who is healthy, great to be around, and suits our historical TICA Maine Coon breed standards.
We choose our breeding cats carefully for their character. They all come from lines with generations of health testing. Our cats have undergone rigorous ultrasound testing with certified veterinarians for heart (HCM), liver and kidney diseases, and have also been genetically tested.
Although no amount of testing can guarantee good health, we do everything we can to ensure that our cattery produces healthy, well-socialized kittens who are a pleasure to live with.
Rianna has successfully finished PawPeds courses G1- G3 and is sort of an expert in the history of the major international Maine Coon breed standards.  She volunteers as an orphans researcher for the PawPeds Maine Coon database.